Remember the one day when you felt your sexiest?
It maybe was that day when,--
even though this may sound a bit shallow
-- you looked your most attractive. It's the day when you're proudest of your physique, your skin glows, your hair does what it's supposed to and you radiate confidence. Your smile is the brightest and damn it--you just look so
fucking fantastic
! Even
you
would want to do you.
Well, a couple of days ago, This Man experienced that first hand. And while everything else going on in my life is chaotic (
I'm 33, I've lost everything, I miss my son and things haven't been going according to my plans
), this moment came after I'd gotten out of the shower and was getting dressed. Rather than let this moment pass, I figured I would snap some pictures of myself. There was just enough light coming into the room, but sunset was rapidly approaching so I knew that I would have to hurry (
I hate taking pictures using a flash
). So I suited up. I broke out my leather harness, which I hadn't worn since Leather Pride in Palm Springs last year, grabbed a leather slapper--
What?!

Don't act like

you
don't keep a leather slapper lying around your house for those spontaneous fetish spank sessions
. I know I'm not the only one--so stop playing
-- set the timer on my camera and snapped.
5 frames. 10 minutes total. That was all it took.
Perfect. Even if This Man says so.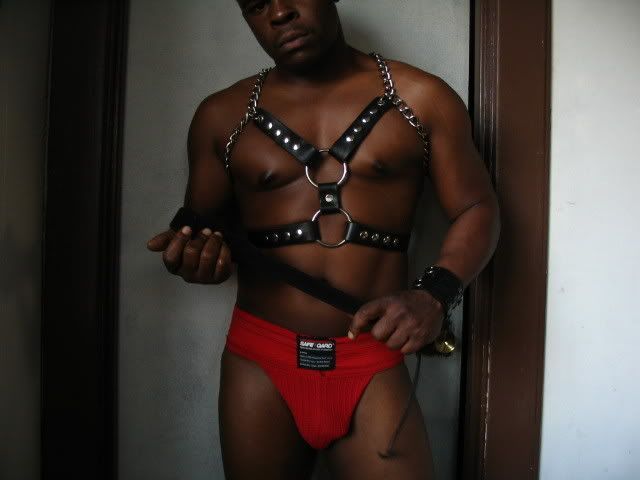 I thought about cropping out the background, but the more I looked at the shots, the more I liked the grittiness of it. It's kinda raunchy, but tasteful. Kinda shocking, but erotic.
Hmmm, sounds like somebody that I know
.
So here's the new picture of the day when I felt my sexiest. Here's what you don't see in that picture:
1. I'm wearing white calf socks and Adidas slip on sandals.
2. I need a hair cut.
3. I smacked the hell out of my right hand with that leather slapper.
4. I was playing music by The Killers in the background.
Mahalo