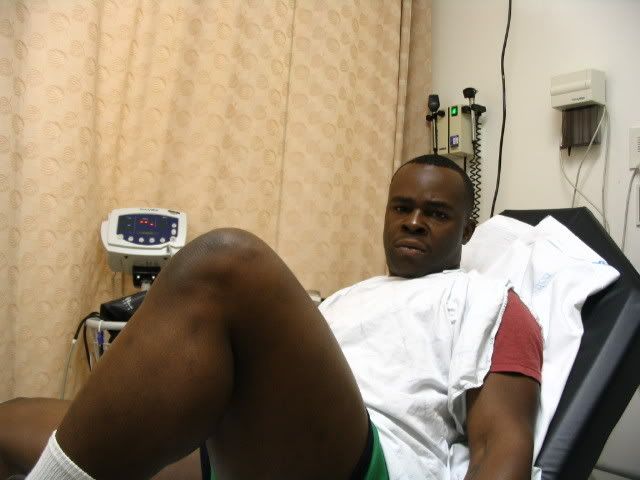 So by Thursday evening, This Man realized that this bite on my right knee wasn't getting any better, but rather was getting progressively worse. The pain and swelling was starting to go down my calf and I could see my skin starting to redden. It was time to make an executive decision.
I
had
to go to the emergency room.
While heading to Hillcrest, I chatted on the phone with my friend, Jason. I hesitated about going to the E.R., but by the time I hung up the phone with him--I knew I had to go. So I walked the 2 blocks to Scripps Mercy.
There's a reason why they call it
Scripps Mercy hospital
. It's because [they] don't have any.
As expected, the emergency room was crowded and I figured there would be a long wait. The triage nurse (she was a real sweetheart) examined my leg and told me that I would definitely need to be seen and given an antibiotic for the wound. Now it was time to wait.
Next, I was called over to fill out my paperwork and get billing out of the way. During the wait, This Man called John, who was flying back into town from Las Vegas.
Hey John. By now you should be getting off of your plane and being held up and harassed at the airport. I'm just calling to let you know that I'm at Scripps Mercy in the E.R. and from the looks of it, I'm going to be here for a while. Anyway, rather than stop by my house, just swing by the hospital and we'll go from there.
I left that message on his voice mail.
By the time I called John (his flight had been delayed) and Lucy (in Texas), tried to read a few pages of my book (Impeach the President: The Case Against Bush and Cheney), watched Animal Planet (it was on the waiting room television) and grew tired of being restless, This Man along with three other patients was escorted to
another
waiting room. We were told that we would be seen shortly.
In the second waiting room, it was me, a lady in a wheelchair and a young Mexican boy, who'd broken his right arm and injured his left pinky finger in P.E. class. Finally, after blindly watching an episode of Law & Order:
Criminal Intent
, I finally was escorted to a bed to be prepped for the doctor. Sitting on the hospital bed with the hospital gown on (
thankfully, I decided on clean underwear, heck thankfully I wore underwear PERIOD
), This Man started snooping around and snapping pictures of myself. Then the doctor showed up. She looked at my leg and informed me that it was an abscess. In other words, I had a boil on my knee.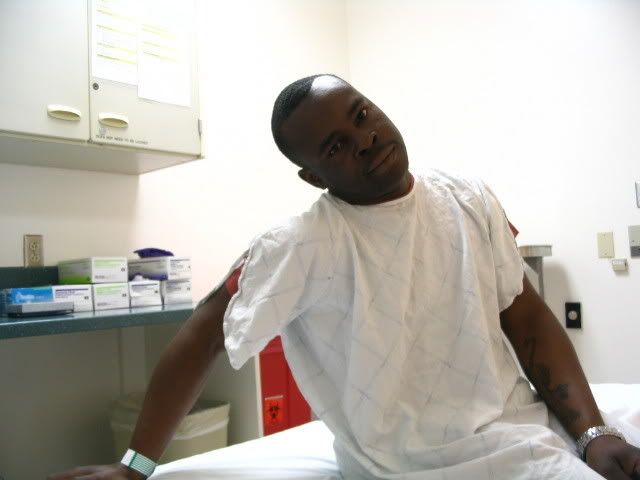 "We're
(
as if I was going to assist her
)
going to have to lance it. That means, we need to..."
she began.
"I know what it means."
I told her. Which didn't matter because she was already filling the syringe with anesthetic.
"Okay, I'm going to numb this..."
she was telling me this
as
she was doing it. Rather than wait a couple of minutes for me to feel numbness, right away she started with the scalpel, slicing into the abscess.
"Now we drain the pus..."
Again, she's telling me this--
not
before she starts, but
as
she's already pressing on my swollen knee and shin.
At this point, I have to tell you, This Man was screaming through clenched teeth in pain!
"I CAN FEEL THAT...I CAN FEEL THAT!"
I grunted. She repeated the whole process, only before she started, the doctor told me that maybe it wouldn't be so bad if I wasn't looking at her actually do the process. So I leaned back, clenched my eyes shut, gripped the sides of the bed and grunted.
Once I finally opened my eyes, all I could see was blackness. But the pain didn't stop there. Now that she'd sliced it and lanced it, it needed to be packed. And she packed it--just as roughly as she'd lanced it.
"You need an antibiotic. I'll prescribe one right now."
And just like that, she was gone!
Another nurse showed up minutes later and informed me that he would be going over some instructions and giving me an antibody.
"...in your hip."
He said. Okay, now we have my right knee which feels like it's been sawed at with a butter knife and here we have this nurse (who, I swear I've seen at Beer Bust Sundays at The Hole) snapping on a pair of latex gloves and gearing up to give me a shot in the--
I don't care what they call it
, it's in the ass.
"And you're all set. Here are some instruction on changing your dressing and locations of clinics that you can go to should you have a problem. Or you could come back here. Do you have any questions? No? Okay, then you can get dressed and go."
I struggled to put my jeans and shoes on. Now, my right knee was in pain and so was my left ass cheek. It didn't matter, really because all I wanted was to get out of there. I was doing a kind of limp & slide movement and eventually I made it back to the E.R. waiting room.
Out of the double doors, This Man could see that it was still crowded, but there was only one face that I was searching for.
John's.
He'd just arrived and was at the desk, asking where I was. He grinned when he saw me.
"You look like you're ready to get out of here."
"You have no idea!"
And through the sliding glass doors we went.
Mahalo.