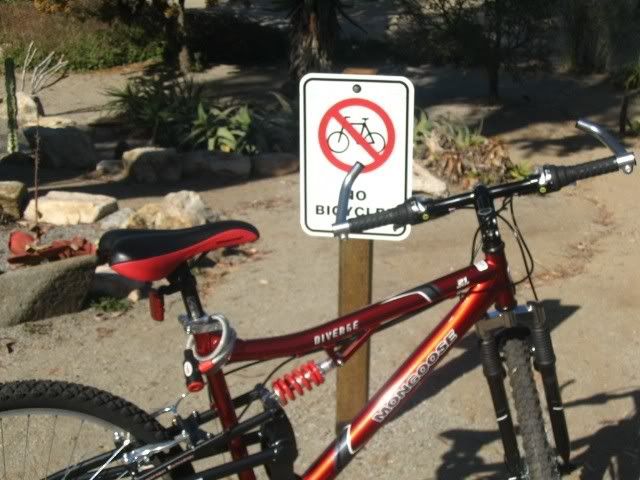 Remember back in June of this year, This Man blogged about having my
bike stolen
out of the back of my Jeep when I while I was at my boyfriend, RH's, apartment. Then I blogged about
San Diego Police Department's
disregard in assisting me in locating the bike.
Today, This Man saw my bike.
And instantly, I developed a plan. Here's how it all went down.
After a rough day commuting around town, via public transportation, This Man had no sooner got off the Number 6 bus and was waiting to catch the Number 2 when I spotted, across the street a bicycle that looked strangely familiar. There was a man (which I would later discover was actually--a woman) at the newsstand (Paras Newspapers located at 30th & University) directly in front of me. With her was my bicycle. I watched from across the street and debated whether to dash across the street and fight with this person and recover what was mine. At the same time, I struggled with whether to miss my bus or to just let the incident go away. While watching this lady talk on the phone and allow my bike to crash on the sidewalk, This Man began to develop a plan.
I would use a more subtle approach. Luck was on my side.
The lady walked the bicycle across the street and around the corner from where I was now standing, shocked. I had to follow her. So I did.
At the bus stop around the corner, I approached her for a closer look and to put my plan into motion.
"
Hi,
" This Man began.
"That's a pretty nice bicycle. You wouldn't be interested in selling it would you?"
" Sure. I'll let you have it for 40 bucks."
Forty bucks! Didn't this bitch realize that she was peddling around on a 300 dollar bicycle?!
"40 bucks? Really! Wow. I'll tell you what, "
I said.
"Why don't we exchange numbers and information and I'll call you in the next two days and pay you your asking price?"
Immediately, she agreed and wrote her name and phone number down.
" Call me tomorrow."
She said.
"I most certainly will."
With her name and number in hand, I caught my bus, headed home and contacted the Police Department.
I asked the dispatcher on the phone how I could go about getting some police assistance in recovering a lost or stolen item that I'd found. I explained to her that I had contact information of the person who had the bike. At the same time, I began to wonder if I could really trust the SDPD to come out and help me.
" Once you check the model number and can prove that it IS indeed your bike then call us and we'll come out and recover it for you. "
The dispatcher informed me.
So with or without the police help, I'm getting my bike back. What this woman doesn't know is that I'm not going to pay a single penny for it!
I'll keep you posted.
Mahalo.