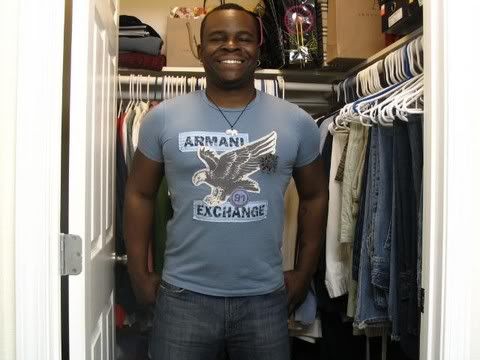 A great man AND he looks fantastic naked! (There's so many small details to add to this post, but because it's so late, I'll add them some other time...TML)
The crazy thing about screwing a bodybuilder/gym bunny isn't that you constantly have to hear about how their gym session went (
he never mentions it
), it isn't that massive amount of supplements strewn throughout their apartment (
haven't seen them
) and it's isn't the vast array of body building tank tops that are part of their wardrobe (
now his posing trunks are a different story
). The crazy thing about dating a bodybuilder, This Man has recently discovered is, it always seems to be meal time! I met Raymond last week and we spent this past weekend together. Raymond is a sexy, Latin bodybuilder who's not stuck on himself and, from what This Man could see, appeared to be relatively low maintenance. We hit it off instantly! So much in fact, that when he invited me to come to his place to watch a movie on Saturday evening, This Man didn't hesitate. We were supposed to have watched Tristan & Isoldte, however after numerous attempts to try and follow the plot, we gave up and settled on making out instead. Hours later, This Man and Raymond were curled together on his living room floor asleep.
Guess I was spending the night at his place.
Sunday morning, I awoke to fresh coffee, sesame seed bagels and a nice egg white omelette. We spent the morning talking and looking out his apartment windows at the people passing by. It was great. Later in the afternoon, we strolled through North Park to return a video, stopping along the way to check out some new condos--it was fantastic. Raymond was a great man and This Man was enjoying my time with him.
Finally 24 hours later, we agreed to see each other this week and to definitely talk on the phone. His schedule, he said is kind of hectic but he would find time to give me a call. In the midst of all of This Man's drama, he made of a great weekend--even if he temporarily took my mind off of my problems.
I'm looking forward to seeing him again.
Mahalo.