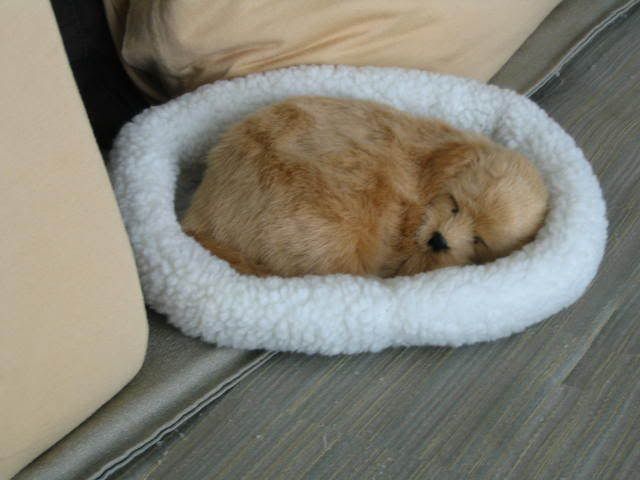 Shhh, don't wake the puppy.
After a crazy & hectic week of getting settled into the new place and desperately needing some down time, John invited his friend, Sigma and his partner, Dennis to go to the Hillcrest Farmers' Market with us. Following that, John and I planned to drive up to La Jolla to PetSmart where they were having a dog adoption from the local Labrador Rescue. Even though we were still hesitant to commit to owning a dog together, we were just going to "look".
Sigma and Dennis arrived and brought us this housewarming gift.
"We have to get it ready,"
they shouted from downstairs. I couldn't imagine what they had for us.
In a cardboard carry box, was this little bundle.
"He's sleeping."
Dennis informed us.
I was peering through the cutouts, trying to figure out whether it was a rabbit, a gerbil or--heaven forbid, a kitten. It was this little pup.
"We figured, since you guys might not get a dog that we would get this one for you."
Sigma explained. John and I, both were struck--
by its realness
.
Our little puppy, is battery operated and when you switch it on, it moves to look as if it's breathing. They told us that they'd found it while in San Francisco and thought it to be the perfect gift.
They were so right!
Later in the afternoon, after driving all the way up to La Jolla only to be told that there wasn't a rescue adoption going on--
"...otherwise, I would've known about it, "
the sales lady told us.--John and This Man were driving back down I-5 when I spotted, way above us, on top of this cliff,
Mt. Soledad
.
"I don't see what's the point of that memorial being way up there, "
This Man began.
" I mean, you can't see it from the freeway unless you know where to look and not too many people know how to get up there to it."
It was then, with sweet clarity and the simplicity of a 2 year old, John replied,
"God knows."
Mahalo